Learn how to quickly search employees in your organization to get reporting, track usage, and guide employee development
In this article:
Viewing employee data
HR can view and track employees from the People page. In your CompetencyCore site, navigate to Organization > People. The table includes all enabled users and displays the following:
Job: The title of the job description associated to this user's position. Learn more
Job Match: How closely the employee's profile matches their job requirements.
Profile: How complete the employee's profile is. Learn more
Goals: A count of the employee's goals. Click this number see more detail and check their progress. For shared goals, you can click the goal name to open in a new tab.
Last Login: The last time the employee logged in to CompetencyCore.
Click an employee's name to access their profile or view their goals. If you have permission, you'll also see a User Admin link to manage their account details in Administration.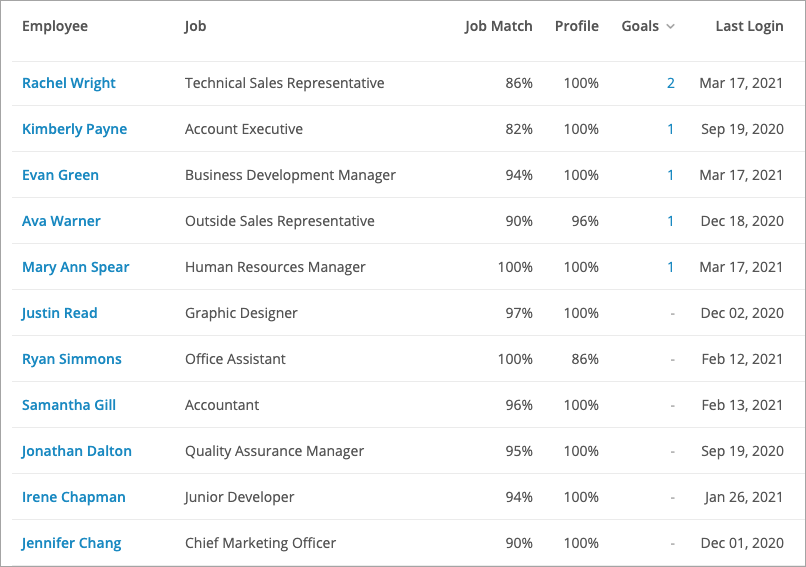 Filtering employee data
Use the search bar to find employees by first name, last name, or job title. This search can be used in combination with filters. When filtering, keep in mind that multiple selections in the same filter are treated as an OR; different filters are treated as an AND.
Filter by department
Select departments in the sidebar. Employees in sub-departments will also be displayed. To focus on just one sub-department, click the drop-down arrow beside a department name and make your selections. Note that we only display one level of subdepartments in this filter.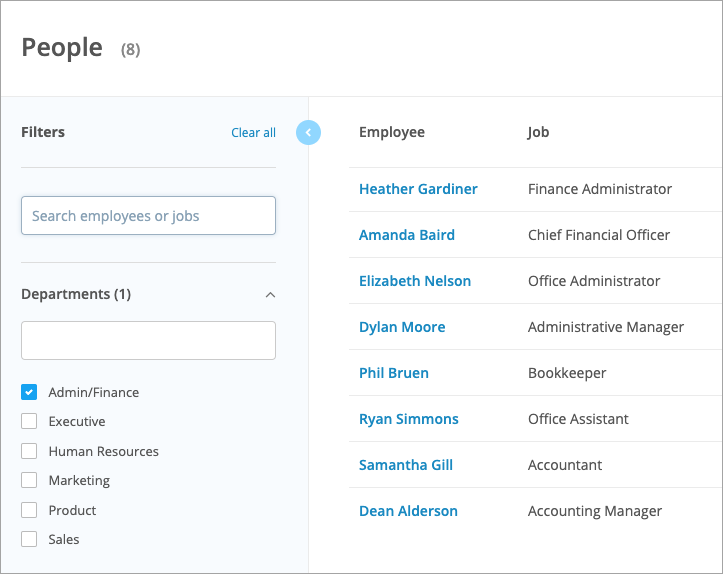 Filter by competency
Click Add filters and select the optional Competencies filter to add it to your sidebar. Search for and select a competency and specify a proficiency level. If you want to filter by more than one competency, just click Add Filters again and repeat these steps. You'll see all users who have achieved the competency on their profile.
Note: If Validation is on, in-progress competencies on user profiles are not counted.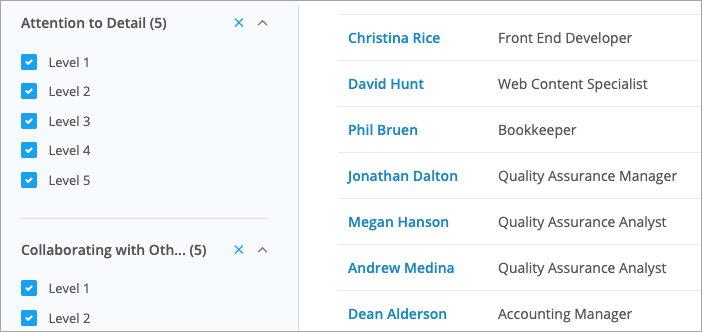 Filter by career path
To see who is using CompetencyCore, add the Career Path filter. Click Add filters and select Career Path. Selecting Yes displays users who have created a shared or private career path.
Exporting employee data
Click Export on the top right of the page. There are two options:
Table Data: an Excel spreadsheet that includes all of the columns in the table. The export respects onscreen filters.
Competency Profiles: an Excel spreadsheet that lists the competencies and proficiency levels on each enabled user's profile.
Setting employee goals
If you notice someone has a low job match percentage, or you just want to encourage employee development, set goals for employees from the People page. Click the 3-dot ion on the right side of the table and select Create Goal. There are two options:
Excel in a Role: Select a job and set an optional due date. Competency challenges are added based on gaps between the user's profile and the job requirements.
Build Specific Strengths: Enter a goal name and set an optional due date. Then add competency challenges and set target levels.
Check out the Administrator's setup checklist for goals or the end user's guide to setting goals to learn more.
Note: HR-created goals are shared with the employee's manager. HR can create goals, but only the employee and their manager can open competency challenges.