See a list of the employees who report to you, review their strengths and gaps, and keep track of your manager-related activities
In this article:
Viewing your team
In your CompetencyCore account, navigate to My Team to open a table listing all of your direct reports. If you don't see this option in the main menu, ask your administrator to turn on the Access My Team permission. Use the Sort by drop-down to filter employees by name, number of strengths, or number of gaps.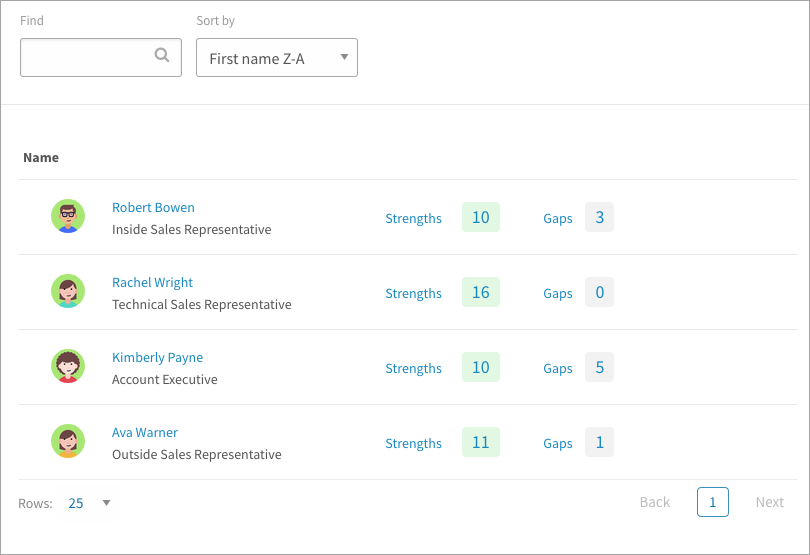 Strengths and gaps
Click Strengths or Gaps to open a list of items on the employee's profile where they exceed and meet or fail to meet their job requirements. Expand a library type to see the level required on the job and the employee's current level for each item.
Manager activities
Click an employee's name to open an activity snapshot. You'll see a count of assessments, development plans, validation requests, and performance plans that require your participation. Click a count to open the My Activities page where you can start or continue the activity. To see all activities across your team where you're assigned as the manager, click the Manager Activities button on the top right of the page.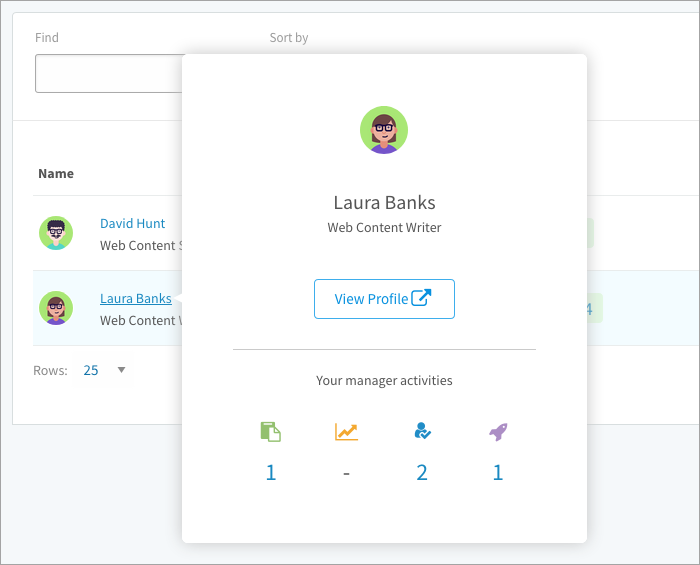 Creating a development plan
Navigate to My Team.
Point to one of your direct reports and click the 3-dot icon.
Select Create Development Plan in the drop-down.
Customize the plan name, description, and due date.
Search for a select a job description to associate to this plan.
Click Add Goals. Add from the suggested competency-based goals, which are based on the competencies required for the job description you selected. Click Next.
Customize the target proficiency levels which are pre-selected based on job requirements.
Add optional due dates to each goal.
Click Done to open the development plan you've just created.
Note: You can only create plans from My Team for your direct reports.
Diving deeper
A Team button indicates employees who report to you but who also have their own direct reports. Click this button to see their team. Your own direct report (the team's lead) is listed at the top followed by their direct reports. Just like with your own team, you can view an activity snapshot and see each employee's strengths and gaps.
Continue diving deeper within your team. Use the breadcrumbs at the top of the page to navigate and to keep track of which team you're viewing. For your direct reports and their teams, you can view the profile of each employee. Open an activity snapshot and click View Profile, or click the 3-dot icon on the right side of the page and select View Profile. Switch between the tabs at the top of the page to view the employee's job matches and public career path.