Learn how to create and download a competency-based interview guide for any published job description
In this article:
Interview guides provide competency-based questions to standardize the interview process and to align questions with job requirements. You can create an interview guide based on any job you're hiring for to find the right candidate.
Building your first interview guide
Navigate to Content > Jobs.
Click a job title in the Jobs table.
Click the Guides tab.
Click Create on the top right of the page.
Select the default introduction and conclusion documents.
Select the Interview Guide Rating Scale.
Turn on the Share switch if you want other users to access the guide.
Click Next to open a window where you can select competency-based questions.
Select the Highlight Unused Questions checkbox to see questions that have not been added to other guides based on the same job.
Select the questions you want to include on the guide and click Save.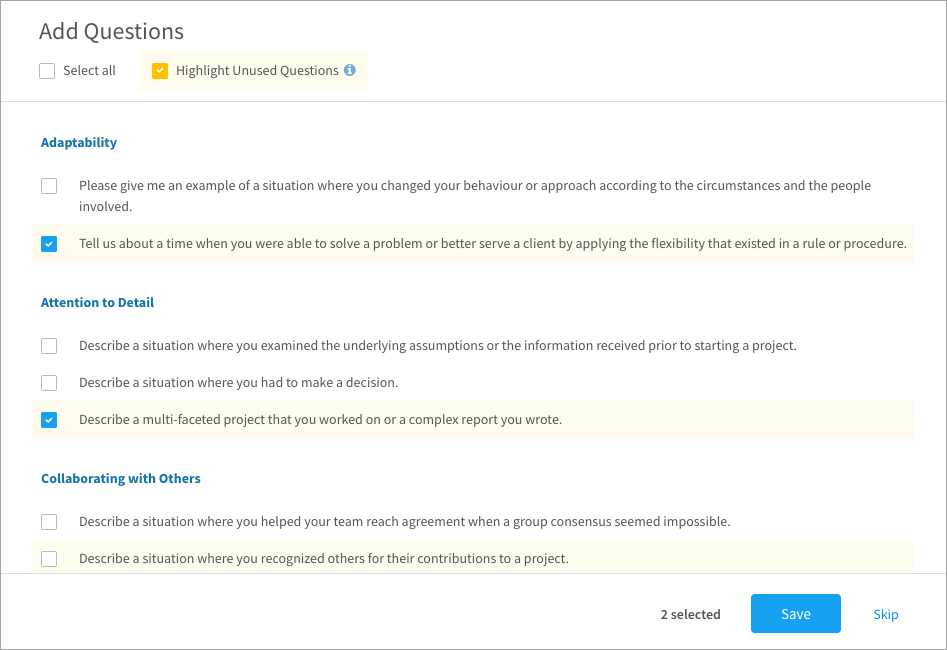 Adding custom questions
You can also add your own custom questions directly to the interview guide.
Click Add and select Create New Question.
On the new page that opens, enter your question.
Click Create Probes to add leading questions.
Click Finish to return to the Edit Interview Guide page.
Click and drag the grips beside a question to reorder.
Tip: Questions created on a guide aren't available for reuse. To create questions that can be reused on other guides, check out the Manage interview questions article.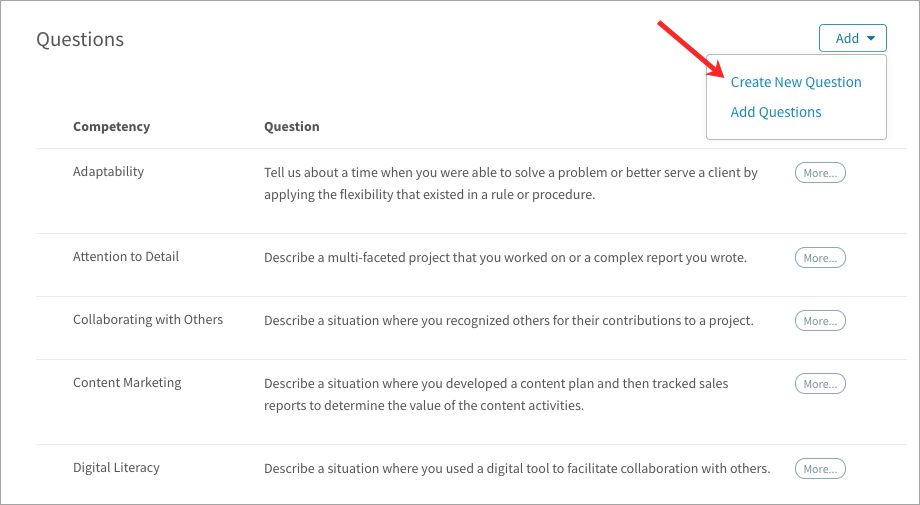 Downloading your interview guide
Open a job and click the Guides tab. Click a guide name to download the PDF or click the 3-dot icon for more export options.
Introduction: We offer a default, or you can create your own content document.
Question pages: The competency name, definition, proficiency level, level summary, and behavioural indicators are listed. This is followed by the question associated to this competency and a list of probes. The rest of the page is blank for note taking. If there are other questions associated to the same competency, they're listed on their own page.
Scale detail: Lists the name and description of each level in the rating scale.
Summary of interview ratings: The final page displays a table where the interviewer can select an overall rating for each competency being evaluated. There's also space to document a recommendation and to add overall comments.
Conclusion: There's no default, but you can create your own content document.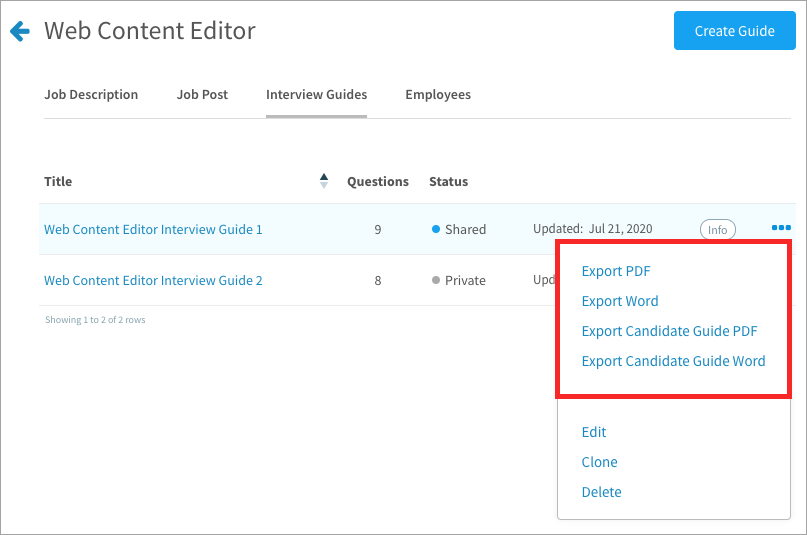 Until an interview guide is shared, it can only be accessed by the creator. You can also export a candidate guide for the person being interviewed so they can review the questions before the interview. The candidate guide includes the same questions as the interview guide, but doesn't include the introduction, probes, additional information, or conclusion.