Learn how to self-initiate an assessment or access one that's assigned to you
In this article:
An assessment is a series of questions used to measure your skill levels against your current job or a job you're pursuing. Competency-based assessments help you and your manager see how closely your behaviours match those required. They also help identify strengths and areas for improvement. As part of your organization's HR process, you might be asked to assess yourself or another employee.
Accessing self-initiated assessments
Whether you're taking on a new role or just curious about an opportunity, self-assessments are a great way to identify gaps in your profile.
Navigate to Assessments > My Assessments.
Click Self-Assess on the top right of the page.
Expand a group and select a job.
Click the gear icon and select Perform Assessment.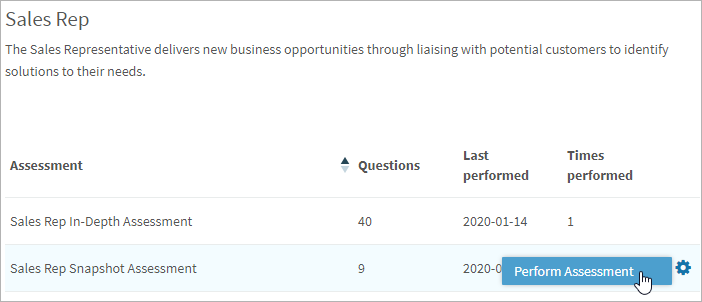 Accessing assigned assessments
When an assessment is assigned to you, you'll receive an email with a link that opens the assessment. Click the link in the email you received.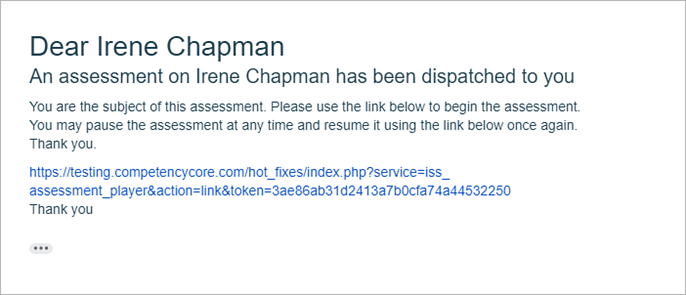 OR
In your CompetencyCore account, click the list icon on the top right of your screen, find the assessment task, and click Start.
Performing an assessment
Follow the steps above to access the assessment.
Review the rating scale that's being used and click Next.
Read the behavioural statement or question.
Select the level you think you're performing at.
Review your answers. A warning symbol means a question is incomplete.
Click a question name to return to it and select a response.
Click the Review Complete button at the bottom of the page.
Click Submit once you've completed the assessment.
Caution: You can't make changes to your responses after submitting.